And by "man" I mean "bag." Purse. Handbag. Pocketbook. I've never really been a handbag person. I mean, I have one cuz I have to put my cell phone (and keys and chapstick and pens and…you get the drift) in something. But for interest and budgetary reasons I usually have just one. And when you have just one, it has to go with everything. It has to be basic, neutral, all-purpose.
You can see the one bag I've been carrying for about the past two years here. It's getting very worn and cracked. Time to get a new fence (remember the riddle – what time is it when an elephant sits on your fence? Time to get a new fence! Ba-dum-bump. I'm here all week)!
But this spring (if that's what we're calling this cold time of year between winter and summer) my eyes have been wandering a bit. And I might actually get TWO bags. Gasp. A go-with-everything one…and a FUN one. Oooh. I just got a little tingly.
I've been lusting after these cute round straw ones since last summer…and I kept waiting for the prices to drop but…they might be about as low as they're gonna go. And I really want one by the time I'm wearing summer dresses (which doesn't seem to be anytime soon but)…so these are the ones I'm considering:
 This is the basic version.
This one is a little more colorful, like a little party
There's a little larger option, more of a round tote. It also comes in natural straw color. 
Britney floral straw cross body bag
This one reminds me of little old ladies in Florida. In a good way.
Or I could go completely off the rails, a la Little red Riding Hood.
Thoughts? Do you ever carry a straw bag in the summer? Any pros and cons to share?
For years, I think in the 80s-90s, I always had a straw market bag like this…
I think I inherited my first one from my sister and then I was addicted to them.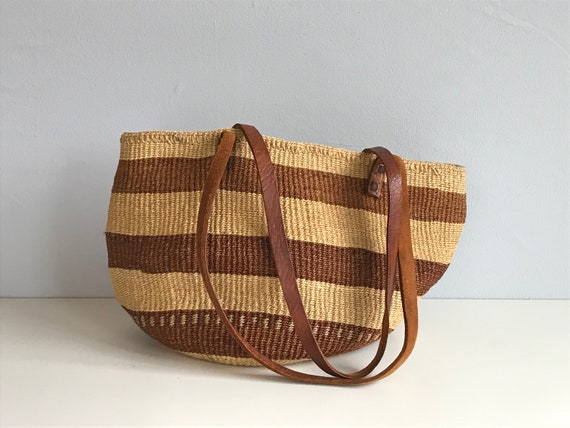 So, those are some options for my "extravagant" extra purse. I still need a utilitarian every-day purse. But I'm going to try and abstain from my normal black and go with more of a cognac/British tan. I think that's a nice neutral option.
I must have a cross-body. Because a) I like to have my hands free, and b) I have slopey shoulders and shoulder bags slide off incessantly. Very Annoying. And it needs to be reasonably priced. I feel like $50 or under is a good ballpark.
In keeping with the circle bag theme (cuz how fun!!!)…
Sole Society Aerin Faux Leather Crossbody Bag
BP. Foldover Crossbody Bag
I've had my eye on this one for a long time, I'm just concerned it might be a little large for me. It does also come in cognac.
This comes in a nice nude color…
Urban Originals The Enchanted Vegan Leather Crossbody Bag
Perfect World Vegan Leather Crossbody Bag
This is an interesting shape and comes in cognac.
And if money were no object (but really, when is it not??), I love this one for the rugged, worn look and the heavy-duty hardware.
Bed Stu Candance Wallet Crossbody
So these are both the basic and not-so-basic bags I'm thinking of for this spring and summer. Are you a one bag woman…or do you play the field, flitting from bag to bag?
Thanks for window shopping with me. I'll show you what I wind up with (cuz really, I show you everything!).
This post contains affiliate links, which means that I may receive a small commission if you click on them and/or buy something as a result of clicking that link.